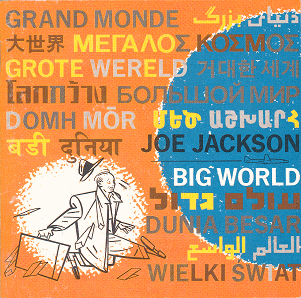 After a few years of genre-jumping, Joe Jackson returned to something resembling the rock of his first album, but with a twist. In a departure for the ultra-processing of the decade, he recorded the songs for
Big World
over a period of three days in front of an audience at a theater in New York City. He carefully edited out any crowd noise, but the result is an album that definitely sparkles with the energy of a live performance, making for a successful experiment.
And if that wasn't all, the original vinyl contained the songs on three sides of two records; the label on the fourth side reads "THERE IS NO MUSIC ON THIS SIDE." (We played it anyway to make sure; there isn't.) This effectively divides the album into three parts, which doesn't always translate to the cassette or CD format.
Part One fades in with "Wild West", complete with Clint Eastwood flute, but goes right for the throat in its questioning of The American Way. The theme continues in "Right And Wrong", complete with timely baseball commentary. "(It's A) Big World" aims for something grand, but stumbles around a fake Arabian riff without going anywhere. "Precious Time" is a breathless cipher, but all is well with the driving, yearning "Tonight And Forever", another song that should have been a smash hit single.
Part Two takes it down a notch, with four songs on a dreamier side. "Shanghai Sky" is a gorgeous meditation on the piano, before asking "how the world got so small". "Fifty Dollar Love Affair" puts us in the middle of a film noir scene, yet the action is contemporary. "We Can't Live Together" starts low and sultry, then winds up with the angst of the choruses and guitar solo. Then it's back to politics with a stately study of the previous "Forty Years".
After that, Part Three seems a little slight. "Survival" pounds a riff into the floor with little substance to back it up, followed by "Soul Kiss", which decries the dearth of substance in pop culture. "The Jet Set" is a humorous narrative by a typical ugly tourist, then "Tango Atlantico" uses the dance metaphor to ridicule Reagan and Thatcher. The nostalgia of "Home Town" has certainly added to its appeal over the years, plus it's got a fantastic opening line: "Of all the stupid things I could have thought this was the worst." "Man In The Street" brings it all home by unleashing the Rock; strangely enough this was recorded during rehearsal, with no audience present.
Despite peaking at #34 on the
Billboard
album chart,
Big World
was hardly the commercial or critical success it should have been. Today it endures as an authentic, non-processed artifact from the '80s, unknown to many. And to add insult to injury, it's currently out of print, making it a steal for anyone who finds it in the used bin.
Joe Jackson
Big World
(1986)—
4