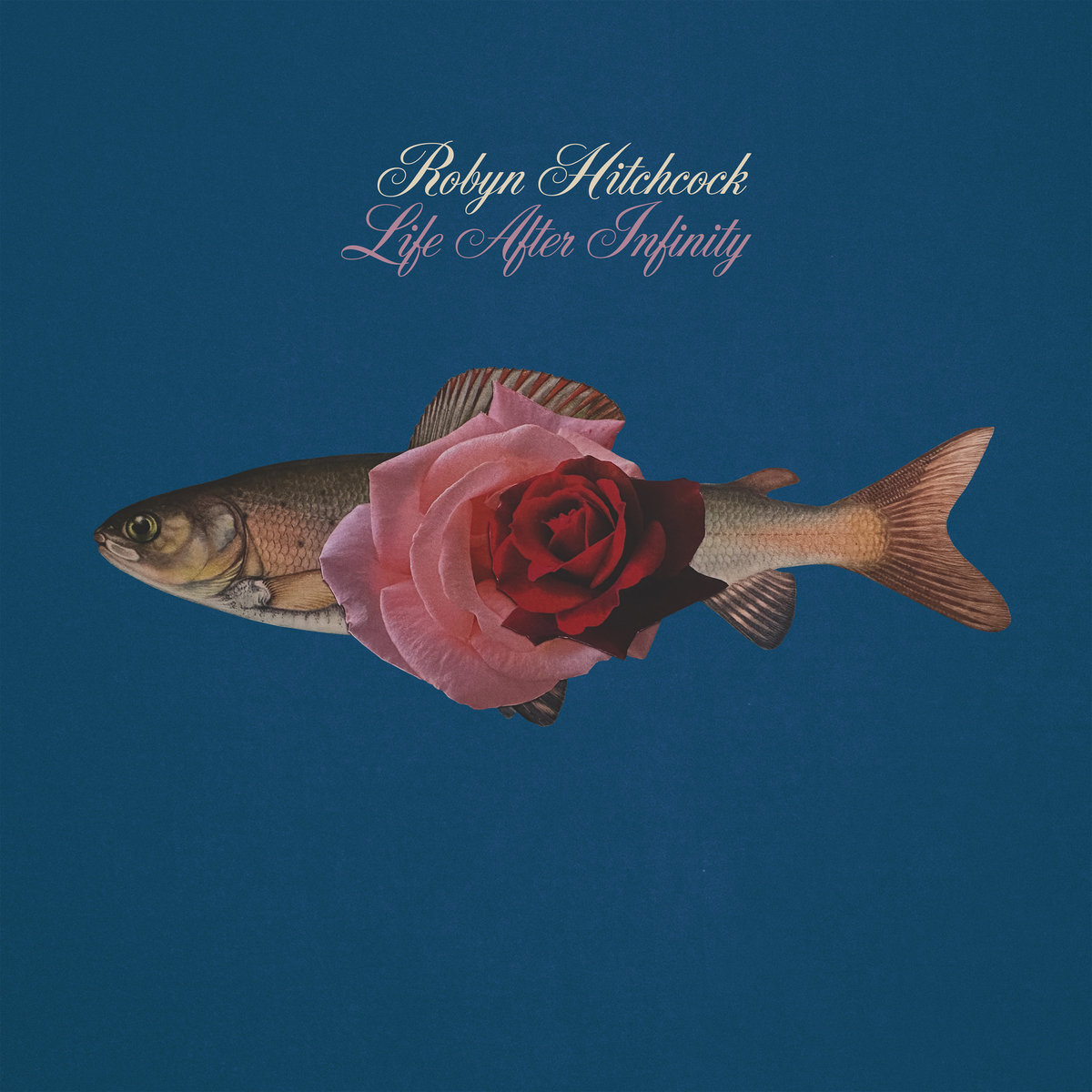 Because his wordplay has always been so unique, Robyn Hitchcock can be easily overlooked for his fretwork. But as anyone who's witnessed a live performance should have been able to notice, the man knows his way around a guitar. Stinging leads aren't his forte; rather he does intricate fingerpicking and flatpicking, sometimes in arpeggios but always in distinct patterns. He's as fun to watch as he is to hear.
Instrumental pieces have been occasional parts of his albums going back to
I Often Dream Of Trains
, but
Life After Infinity
is his first all-instrumental release, and it's a joy. It's mostly solo, mostly built on a few guitar tracks, with occasional bass and percussion added by Hitchcock stalwart Charlie Francis. These might well be demos, recorded simply, and that's fine; a grainy quality pervades the overall sound, adding to the mystic quality.
"The Eyes In The Vase" is mostly a rumination on one chord with a melody on top, with distant percussion, very redolent of English folk. "Daphne, Skipping" also has one chord for its basis, but the joyful chromatic riff and happy rhythm evoke the title nicely. "Plesiosaurs In The Desert" has something of an ambient drone to support the wandering guitar before the seagulls fly in from the distance. Knowing what we do about the auteur, "Tubby Among The Nightingales" was likely inspired by one of his cats; here the strum is augmented by a twangy Telecaster. "Gliding Above The Ruins" features a trilling mandolin-style effect, while a ticking clock and a banjo(!) drive "Come Here, Little Ghost", accented by full chord strums and what sounds like a piano.
"Nasturtiums For Anita" is just a single guitar finding its way, building to a wonderful energy; "Celestial Transgression" also begins more delicately, adding instruments sparingly, the bass nearly providing the most melody. These approaches develop further in "The Sparkling Duck", with harmonic passages spread across the insruments. "Veronica's Chapel" opens with what appear to be the same bells from
"Big Black Smoke"
and
"Fat Old Sun"
before giving way to backwards guitar and very psychedelic riffing. About halfway through bass, cowbell, and other percussion add more of a steady groove, and the bells see us out again. Finally, "Mr. Ringerson's Picnic" is jaunty and tuneful before fading on what sounds like another idea entirely.
We often remark in this forum when an album is too long. Well,
Life After Infinity
feels too short; at least it goes by very quickly, even at 37 minutes. It's a pleasure to hear at any time of day, in any weather, but best in solitude. Here's hoping there will be more someday.
Robyn Hitchcock Life After Infinity (2023)—4