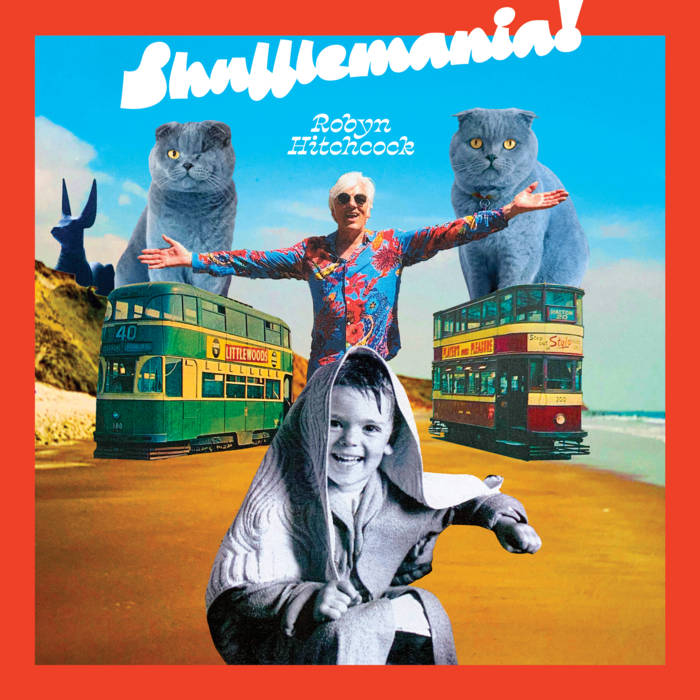 We generally prefer Robyn Hitchcock albums either when he's completely solo or playing with the same band on all tracks. In many cases, the albums that are pieced together from different sessions with rotating players don't always succeed, but that can also be blamed on the songs. In the case of
Shufflemania!
however—though we're still wondering how or if it's supposed to related to
another album
—the scattered approach works. He'd already made the most of the 2020 pandemic to stay as creative as possible, and here he's collaborated over the wires with 15 other players in as many studios. Some of these people include members of Wilco, the Raconteur who produced his last album, two former Soft Boys, Johnny Marr, Sean Lennon, and the lovely Emma Swift. He started with vocals and guitar, then had his guests fill in the rest.
A demo-quality strum chugs at speed and is soon taken over by a full band on "The Shuffle Man" for a snappy opener before "The Inner Life Of Scorpio" provides a calmer contrast, mostly contributed by Mr. Marr. As usual, the lyrics are inscrutable, as they are in "The Feathery Serpent God", which is more mysterious but also more satisfying. It wouldn't be a Robyn Hitchcock without a reference to a bygone mode of transportation, and "Midnight Tram To Nowhere" fits the bill, while "Socrates In Thin Air" returns to the more whimsical lyrics of the '80s but with one of his modern choruses.
The suitably moody "Noirer Than Noir" begins a quieter side two, followed by the welcome intricate picking throughout "The Man Who Loves The Rain". "The Sir Tommy Shovell" is a rocker about an imaginary pub, but we would very much like to visit. Plus, the title is another "shuffle man," so there you go. "The Raging Muse" is another cool rocker, amazingly cobbled together from recordings done on three continents. While generally hopeful, "One Day (It's Being Scheduled)" could be slightly improved by not giving away the payoff in the title.
With all that,
Shufflemania!
holds together well. We're still waiting for another
masterpiece
, but this will do in the meantime.
Robyn Hitchcock Shufflemania! (2022)—3½