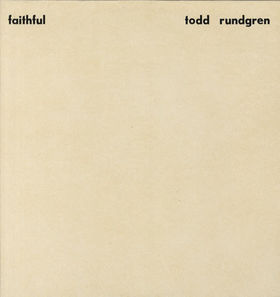 It was time for another song-based solo album, but Todd still needed a concept to keep him interested.
Faithful
got most of its notoriety for side one, note-for-note covers of classic records from the sixties.
Of course, being Todd, he just doesn't tackle songs he likes—he picks those that originally came out of meticulous production. Which is why we get covers of "Good Vibrations", two Beatle songs, and songs by Hendrix, Dylan and the Yardbirds. His point seems to be "I'm just as good as those guys, only now I have the technology to let me work faster!" Still, sixties nostalgia wasn't exactly fashionable in 1976, so his decision to record these songs was certainly unique for the time.
Side two offers six originals, immediately more accessible than anything on his last three albums with or without Utopia (who play on the album in their latest incarnation). "Black Or White" begins with an intriguing guitar part that unfortunately descends in to a heavy rocker. "Love Of The Common Man" is all '70s pop, a style that would soon be called yacht rock. An interesting mix of reggae and salsa music, complete with bird whistles, "When I Pray" provides some toe tapping, thanks to a repeated wordless refrain that covers whatever the point of the song is. "Cliché" delivers on the promise of that brief guitar heard at the top of the side, and the Philly soul gets an even longer workout on "The Verb 'To Love'", though that crazy cocktail piano solo would keep anyone from confusing this with Hall & Oates. But the sublime mood gets punctured by "Boogies (Hamburger Hell)", a dopey joke song in support of vegetarians.
If he was trying to win back a mainstream audience,
Faithful
was the way to do it. But he was putting out material at breakneck speed, leading us to wonder whether he really needed to release absolutely every new idea he had.
Todd Rundgren
Faithful
(1976)—
3