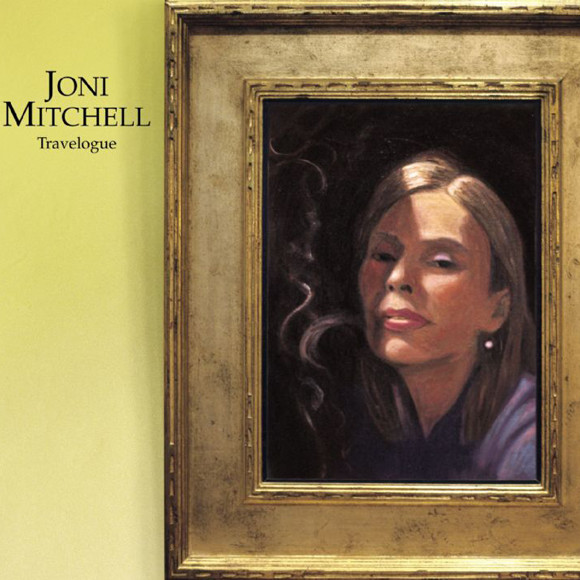 The idea of Joni Mitchell doing a standards album three decades into her career may have been tough to swallow, but
the final result
turned out to be quite palatable. So for her next trick, she decided further the experiment on "A Case Of You" and "Both Sides Now" to recast even more of her own material with orchestral arrangements.
Apparently anything worth doing is worth overdoing, so
Travelogue
runs over two hours. Right there it's a lot to take in; plus, unlike established standards that have already been arranged in dozens of ways, most of Joni's material already exists in definitive form as her original album tracks. That said, many of the selections are deep cuts, so people hearing the songs for the very first time may enjoy these versions more than those of us more familiar with them might. The selections come from eleven of her albums; of those,
Wild Things Run Fast
is represented by four tracks (ex-husband Larry Klein did the arrangements, so maybe that one is special to him.)
Some of the more percussive treatments sound like mid-'70s Tom Waits, while "Sex Kills" is lashed to a rhythm akin to "On Broadway". There's a choir here too; unobtrusive on "Slouching Toward Bethlehem", it works on "God Must Be A Boogie Man", but not so much on "Sire Of Sorrow". The louder tracks can be jarring so soon after softer ones, again making the two-hour journey arduous. The
Hejira
remakes seem to be the most faithful, and the look all the way back to "The Dawntreader" is also lovely. "The Last Time I Saw Richard" has something of a wandering arrangement, but her voicing of the waitress's one line cheapens it. "Woodstock" is given an even more extended approach than hers, and certainly from CSNY's version; we find it meandering. "For The Roses" gets a dramatic overhaul, wherein she really explores each line, just as "Cherokee Louise" is given a heartbreaking treatment, as befits the lyrics. "The Circle Game" ends the program gorgeously, with wonderful sax trills from Wayne Shorter, making for as moving as closer as "Both Sides Now" was on her last album.
In some ways Joni was ahead of the curve, as the years since have seen several artists go the "orchestral re-imagining" route a la
Travelogue
. Cynics suggest such a project happens when an artist has run out of ideas; in Joni's case, she said she was done with the record business anyway. She wasn't, but we didn't know that then, and neither did she.
Joni Mitchell Travelogue (2002)—3