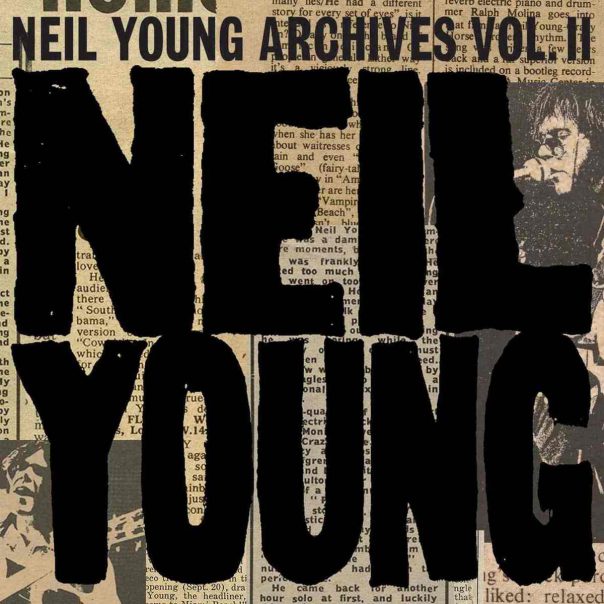 Speculation about the next installment of Neil Young's
Archives
box sets began immediately upon release of
the first
. For a few years it was presumed that this set would take the story through the rest of the '70s. When
Archives Vol. II: 1972-1976
did finally appear, the covered timeline was shorter, but the ten discs dove deep into one of his most fertile songwriting periods, and an era that has since become hallowed by fans. (Also, with the multimedia portion largely handled by the Archives website and app, the physical package was only released on CD, initially as a limited release with a deluxe book as with the DVD and Blu-ray versions of
Archives Vol. I
. This sold out in seconds, forcing Neil and Reprise to prepare a second run, as well as a slightly cheaper version with a less elaborate book. The hole left by the death of manager Elliot Roberts was never more apparent.)
Three of the CDs had already been released individually, and familiar album tracks abound; he'd already established that the Archives project is designed to present his creative output in context.
Roxy
gains an extra track in an extended encore performance of "The Losing End (When You're On)", but
Tuscaloosa
was not so lucky, despite the outtake of "The Loner" made available for streaming.
There is an alternate live version of that song on
Everybody's Alone (1972-1973)
, which fills in more of the gaps in the wake of
Harvest
, skirting around
Time Fades Away
, and offering the title track to the incomplete CSNY album
Human Highway
. The opening "Letter From 'Nam" is immediately recognizable as a draft for
"Long Walk Home"
a decade and a half later; "Goodbye Christians On The Shore" is a mysterious fable in 7/8 time. Long booted favorites like "Sweet Joni", "Come Along And Say You Will", and the ramshackle electric pillage of "The Last Trip To Tulsa", exiled for years as a B-side, show up, along with a rambling introduction to an acoustic "L.A." that finds its way out of "I Got You Babe".
Strangely, "Everybody's Alone" itself doesn't appear until two discs later. Confusingly titled,
Tonight's The Night (1973)
presents the raw sessions from
that album
, but with none of the fabled "raps" in between the songs themselves, save a longer intro to "Tonight's the Night Part II". A barely together "Speakin' Out Jam" shows the effects of the tequila, and the sound of the Santa Monica Flyers backing Joni Mitchell on
"Raised On Robbery"
must be heard to be believed. Similarly,
Walk On (1974)
presents a more complete picture of how
On The Beach
happened, bringing in key outtakes of the period, including an electric "Bad Fog Of Loneliness" and solo acoustic renditions of "Traces" and the old chestnut "Greensleeves".
The Old Homestead (1974)
is something of a companion to
Homegrown
(which follows in the set) and it's fascinating. Only the "title" track and "Deep Forbidden Lake" had been released on albums proper, with the rest of the program—70 minutes total, the equivalent of two Neil albums—devoted to songs that slipped through the cracks. Some, like "Hawaiian Sunrise", had featured on that summer's
CSNY tour
, represented here by a superior take on "Pushed It Over The End" and Stephen Stills' blazing contribution to "On The Beach". "Homefires" and "Give Me Strength" were often highlights of acoustic sets over the years, while "Bad News Comes To Town" would be trotted out with the
Bluenotes
and "Changing Highways" would emerge
22 years later
as a Crazy Horse stomper. A piano rendition of "One More Sign", dating from the Buffalo Springfield era, is as heartbreaking as "LA Girls And Ocean Boys", which would be co-opted into "Danger Bird". Three distinctly different takes of "Love/Art Blues"—solo, downbeat, and jaunty with yodeling—demonstrate his quest for the right sound. "Frozen Man" and "Daughters" had been rumored for years, and live up to our hopes.
Dume (1975)
not only widens the scope on
Zuma
by about half an hour, but reveals some of the incredible candidates left off that album, such as an earlier version of "Powderfinger" and electric takes on "Ride My Llama", "Pocahontas", and amazingly, even "Kansas" and "Hawaii".
"Too Far Gone"
and "No One Seems To Know" appear a year before the live takes on
Songs For Judy
; "Born To Run" is not the Bruce song, but a Neil original tried and abandoned over the decades.
Look Out For My Love (1976)
is even more sprawling, the continuing adventures of the refurbished Crazy Horse alongside that year's CSNY experiment that dwindled down to the short-lived Stills-Young Band, culminating in another stab at "Human Highway". But first we get a transcendent "Separate Ways" that would have tilted
Long May You Run
even further in Neil's favor, a band take of "Traces", and two tracks with the Crosby-Nash vocals still intact. In the midst of all this is "Mediterranean", an intoxicating exploration unlike anything in the catalog.
The disc also weaves in and out of the shows that made up
Odeon Budokan (1976)
, a live album captured in London and Japan, both solo and with the Horse. While heavy on
Zuma
, he was probably right to shelve it and wait for
Live Rust
three years later. Still, the sequence includes a few songs that would have made their debuts had the album been released back then, including "Too Far Gone", "Lotta Love", and "Stringman". (The overdubbed version supposedly earmarked for yet another scrapped album expected to be addressed in
Archives Vol. III
is on the previous disc.)
As before, not every song from every album of the period is included, and the repetition throughout the ten discs may rankle some. It can also be jarring to hear songs outside of an order etched in our brains for decades. But given the quality of those original albums, it's astounding that he had this much in the tank, and exciting for fans who'd thought they'd heard everything. In a word, wow.
Neil Young Archives Vol. II: 1972-1976 (2020)—4