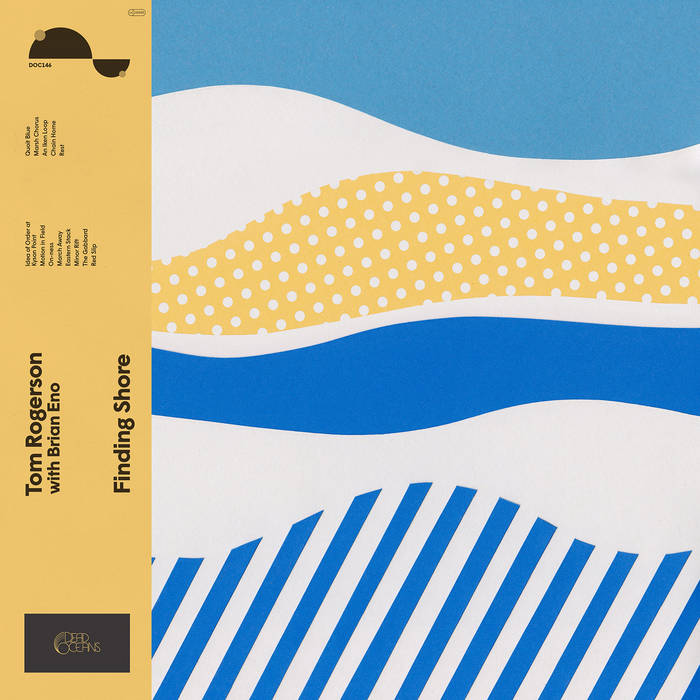 From his first collaborations with other musicians, Brian Eno has often been in the position of electronically processing the sounds other people produce. That's how he started out with Roxy Music, and how he usually "produces" other people. His
two albums with Harold Budd
found him working head to head with a pianist, and that's very much the idea behind
Finding Shore
, a collaboration with British keyboardist Tom Rogerson.
It's not the best comparison, as Rogerson is a much more expressive pianist in the classical style—as demonstrated best on "On-ness"—compared to the minimalist, impressionistic landscapes Budd conceived. The listening experience is more emotional, and not as "cold" as the Budd albums could tend to be. Still, there's a familiarity to "Quoit Blue" and "Minor Rift" that sends us back there. That said, thanks partially to the technology Eno uses, the music can sound more harsh and mechanical, as on "March Away", "Eastern Stack", "Red Slip", and "Chain Home". This makes the majestic "Marsh Chorus" and "An Iken Loop" more welcome.
The improvisatory approach covers a lot of moods, so
Finding Shore
can be a little disjointed. But taken individually, the tracks are certainly enjoyable.
Tom Rogerson with Brian Eno Finding Shore (2017)—3