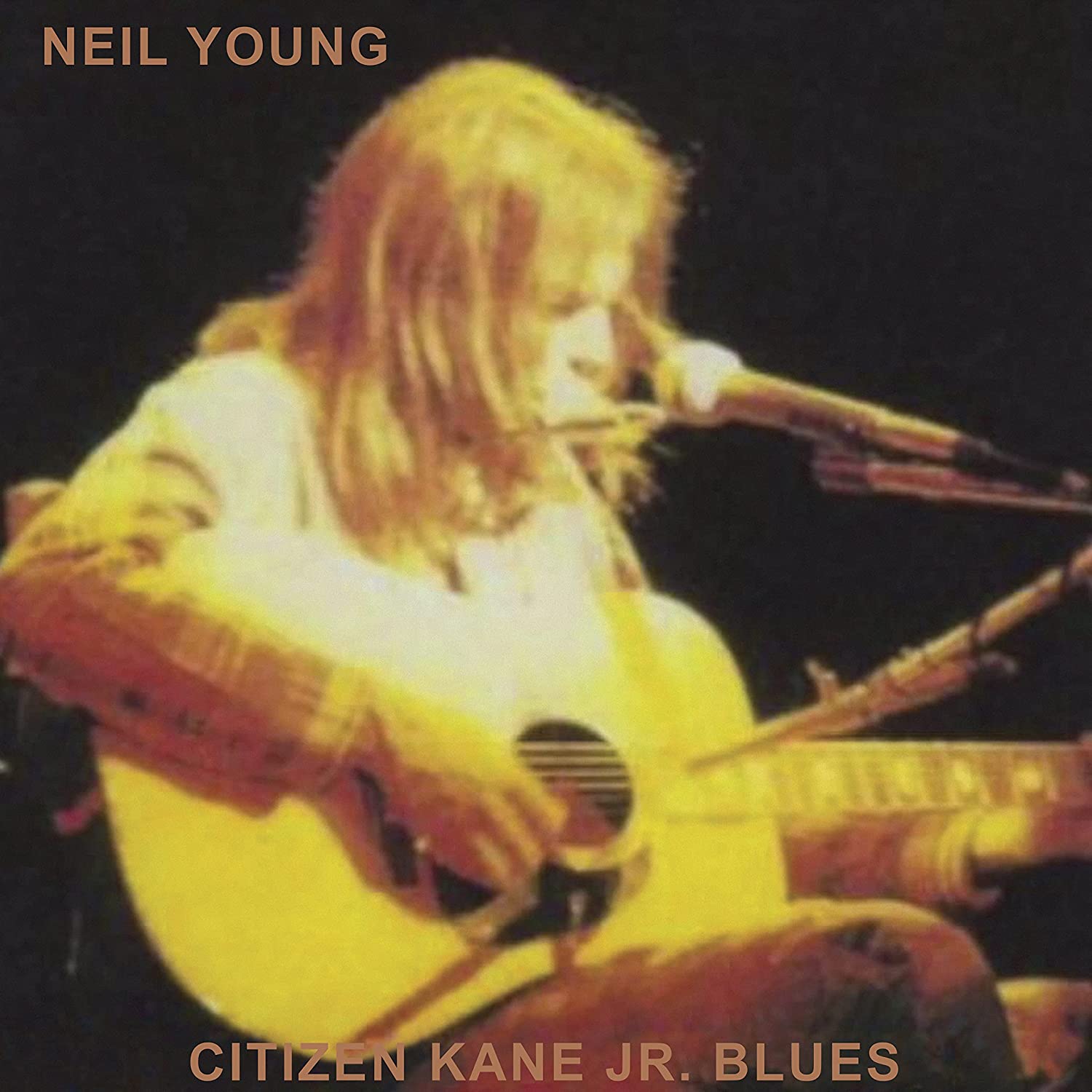 Eighteen months after they were originally announced, the second, third, and fourth installments in Neil's Official Bootleg Series finally appeared. Two of these chronicled shows only two days apart, and
mined material
already on four
other archival releases
. But most fans were far more excited about a show that should have been part of
Archives Vol. II
—it even fits chronologically between two of that set's discs.
Citizen Kane Jr. Blues
was mastered from the original cassette recording of an impromptu set played in the wee hours at New York City's Bottom Line following a Ry Cooder gig; Leon Redbone was the opener. Neil had just finished recording
On The Beach
, but would only play four of that album's songs, and played even further material that had yet to be released, or even recorded in the forms we would get to know them. (The show was edited to fit on two vinyl sides, but Neil does provide a "complete" stream of the album on his site, which runs about ten minutes longer, mostly due to a lengthy monologue before "Motion Pictures" that explains why he hasn't played "Southern Man" in a while, and discusses "honey slides", a potent marijuana concoction that allegedly fueled his recent writing and recording.)
After a brief introduction, he introduces a song with a title that gives this boot its title, but would come to be known as "Pushed It Over The End" and a highlight of the upcoming summer's
CSNY tour
. Even without the dynamics of the full band, the stop-start arrangement is hypnotic. He introduces "Long May You Run" as a song he wrote about his car, and the audience chuckles throughout. "Greensleeves" is delivered straight, to silence, then he apologetically sets up "Ambulance Blues" for being a "bummer", but again, they hang on to every line. At the time, only "Helpless" had made it to an album, and the crowd is happy to hear it.
"Revolution Blues" is just as spooky acoustic, and he downplays the down mood of "On The Beach" by opening with a few guitar licks in the style of Stephen Stills. An inebriated-sounding request for "something country-western" prompts "Roll Another Number (For The Road)", which is appreciated with clapalongs and yee-haws. Even without the full intro "Motion Pictures" is mesmerizing. He offers the crowd a choice between two songs for his last number, but they want to hear both, so they get a lovely "Pardon My Heart" and then "Dance Dance Dance", a month away from mutating into "Love Is A Rose".
Basically, if you love this period of Neil,
Citizen Kane Jr. Blues
is essential. While he's been all about sound quality, and replicating other bootlegs with pristine tapes from his own Archives, this show is intimate, raw, and seemingly much more spontaneous. Even the stray coughs from the crowd enhance the natural ambience. And it's from a period that hasn't been as documented as, say, early 1971. There will never likely be a better-sounding version of this show, and that's fine.
Neil Young Citizen Kane Jr. Blues (2022)—4