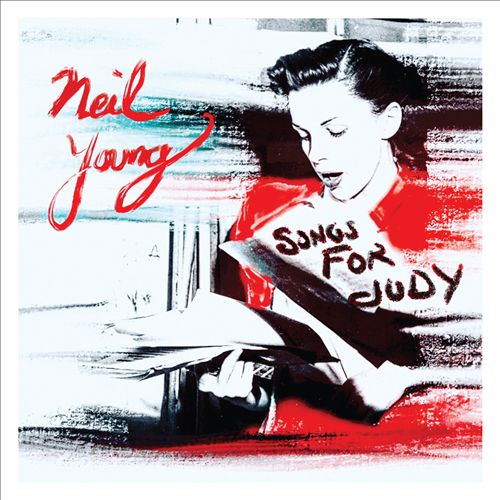 Just as chapters in Neil's
first Archives box
were tantalizingly parceled out ahead of time, a decade later he appeared to be doing the same thing, focusing on performances from the mid-'70s. Perhaps not surprisingly, the item designated #7 in his Performance Series was basically a chronologic and sonic upgrade of one of his more famous bootlegs.
Songs For Judy
gets its title from various meandering raps about Judy Garland, which were something of a theme during a November 1976 tour with Crazy Horse. Journalist Cameron Crowe and photographer slash guitar tech Joel Bernstein had carefully selected their favorite acoustic performances from the run and stuck them on a Maxell tape, which eventually got into the wrong hands and began circulating as "The Bernstein Tapes". (Another fun fact: the night after the last show of the tour, Neil flew off to San Francisco to play a gig called
The Last Waltz
. It was a busy year.)
A quick glance at the tracklist may suggest you've heard this all before, and if you've got the bootlegs, you have, but suffice it to say this sounds a lot better. Even coming three months after the cutting session that made up
Hitchhiker
, only four songs are repeated. And of those, "Pocahontas" gets a stoney intro and extra lyrics at the end, while "Human Highway" is delivered on
"gitjo"
with a disclaimer of its own. "Give Me Strength" is given an excellent reading, and it's hard to tell whether the crowd knew "Love Is A Rose" from the Linda Ronstadt version or thought it was "Dance, Dance, Dance". At the time, these were brand new to audiences, and wouldn't be out on albums for a while, if at all. The pretty piano lament "No One Seems To Know" makes its official debut, finally, and it's worth the wait;
"Too Far Gone"
and
"White Line"
would each take over a decade to find homes. The audience hoots and hollers either way, upon which Neil constantly remarks.
Beyond that, the selections touch on just about every album he did have out by then. "Here We Are In The Years" is resurrected with a dedication to President-elect Carter, while "The Old Laughing Lady" is given a much jauntier arrangement (much like how he'd do it on
Unplugged
) with an added coda known as "Guilty Train". "A Man Needs A Maid" is performed simultaneously on stringman and piano, beginning with the familiar chords of "Like A Hurricane". "The Losing End" is just as effective solo as it was with the Horse, and even "Sugar Mountain" gets a treatment that wanders around the all-too-familiar structure. We get one line from the chorus of "Country Girl" before he moves on ("that's as much as I know," he says, as we tear our hair out in frustration). And of course, the hits: "Heart Of Gold", "After The Gold Rush", "Needle And The Damage Done", "Harvest", "Tell Me Why", etc.
An unreleased live album from earlier that year, half of which featured Crazy Horse, was eventually released as part of
Archives Vol. II
, so those jonesing for electric mud will have to seek elsewhere. Still,
Songs For Judy
is an archival release of more broad appeal to casual fans than the last handful, and is right up there with
the Fillmore East and Massey Hall sets
.
Neil Young Songs For Judy (2018)—3½